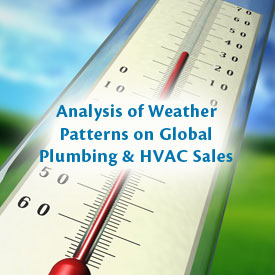 One interesting area in some of the data analysis we do is in correlating the relationship between local weather conditions and both plumbing and HVAC sales. The relationship between sales of air conditioning and heating with the weather is unsurprising, but the relationship with plumbing perhaps more so.
An advantage that we have in working with clients is that we have years and years of tracked call and sales data from campaigns around the world. With so much data to work with it gives us the opportunity to analyze it in interesting ways that individual plumbing and HVAC companies couldn't.
And what does the analysis reveal? Well, obviously much of it is a competitive advantage for clients that we're not going to spill here. However it was instructive and interesting to see the slightly different variations between both different countries and even within countries.
The result has some interesting uses, because of course the weather for the upcoming week is always reasonably predictable - it's the very reason forecasts exist. Having a statistical insight into how that weather will effect the market gives our clients an opportunity to put their 'marketing chips' on the table with greater precision while their competitors are blind to the advantage.
If it's an area that interests you, you can find out more by contacting the Plumber Marketing team directly here.
HOT WEATHER HVAC MARKETING | ADVERTISING AIR CONDITIONING | HEATING ADVERTISEMENTS | HEATING CONTRACTOR ADS | PLUMBING ADS | HVAC ADS | HVAC CONTRACTOR MARKETING | ADVERTISING HVAC CONTRACTORS