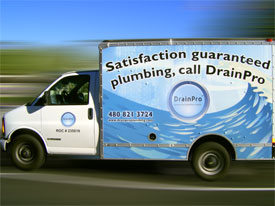 In the glamorous world that is plumbing and HVAC marketing and advertising (!) it doesn't get much better! The truck wrap we created for Drain Pro LLC in Phoenix, AZ has been awarded Plumbing & Mechanical's "Truck of the Month" accolade! You can read more about it here (opens in a new window).
There is business thinking behind it - as with all these branding and outdoor advertising efforts. After all it has to fit in with a wider marketing strategy that makes the phone ring.
The vehicles that plumbing and HVAC companies are running are a tremendous asset - and with rising gas prices making running a fleet around a city every day more expensive, it makes sense to squeeze every bit of value back out of them.
The key is in appreciating just how many people in any area see those vehicles every day - potentially, it's enormous top of the mind awareness that can be provided from an existing asset.
Put a powerful advertisement up there and it can give you up to five years of value, at (spread over five years) a very low per impression cost. The downside, is that the cost is all at the start - you are paying for the five years on day one.
Where we come in is with the word 'potentially'. Of course when your vehicles drive around your service area there is the potential for people to see them, and potential for people to remember it - but it's a game of percentages. Our work is to try to increase those percentages from the same asset - to use the space as a billboard to express and advertising message that is seen by more people, and remembered by more people. And when you have millions of impressions per year (especially in metro areas it can be in the hundreds of millions for big fleets) that can create a competitive advantage for a company. It's not about creating something that just makes it easier for your techs to find in a parking lot, it's about speaking to potential customers in a more effective fashion.
To get the best value out of it, it does make more sense if you have a fleet (or are at least planning to grow to have a fleet). Not just in terms of our time, but having extra vehicles on the road is a big factor in increasing the awareness - there is a kind of 'critical mass' where it seems to jump in effectiveness because so many people see them.
For help with your HVAC advertising or plumbers marketing, email or speak with the experts with a proven track record of helping contractors' businesses today (and listen to our testimonials kindly left by some of our clients on the top right of this page).
TRUCK WRAP DESIGN | TRUCK WRAP INSTALLATION | PLUMBING TRUCK WRAPS | HVAC TRUCK WRAPS | TRUCK WRAP HVAC | PLUMBING TRUCK LETTERING | PLUMBER VAN WRAPS | PLUMBING TRUCK OF THE MONTH | HVAC TRUCK OF THE MONTH