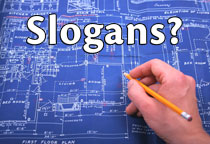 Plumbing slogans are an issue that are never too far away from a discussion about advertising for many contractors. Part of the reason for that is perhaps the big name plumbing companies that spent the fifties and sixties pushing their slogans and jingles hard. As a result many contractors think that it's the fast track to contractor marketing gold. It isn't.
If you have heard slogans and jingles before and know them well, it's probably because gigantic sums have been spent over a great many years. It's the stuff of market share, and of dominating markets. If you're looking for big branding - "top of the mind" awareness, then you need to be thinking about big budgets and putting yourself in a position of market dominance in your local market.
If you're looking for more of your marketing dollars to get the phone ringing here and now with contracting jobs, then you'll need more than a catchy slogan. Think about your branding, why customers should choose you, and how they benefit when they choose you. Then get that message out there as your priority. The odds are way in your favor for a faster return on your investment over pushing your slogan. It's a simplification of many of the issues facing different plumbing and HVAC companies - your businesses have different competitors and are at different stages of the business life cycle - but by and large if the main focus of marketing your business is just the slogan, you're missing out on where the real action is.
For help with your contractor marketing year round, simply email us or call us and we'll see how we can help. All the work we do is specific to helping you to beat your competitors in your area - so don't forget to tell us a bit about your business too!
PLUMBING COMPANY SLOGANS | HVAC SLOGAN | SLOGANS FOR HVAC COMPANY | PLUMBING CONTRACTOR SLOGANS | FUNNY PLUMBING SLOGANS | PLUMBER TAGLINE | PLUMBING TAGLINES | PLUMBING MOTTO