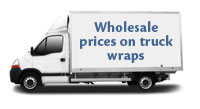 Did you know that you can make substantial savings on your truck fleet wraps and plumbing advertising? It's not something we always talk much about - preferring to focus on the benefits in terms of increased revenues and profits for your business, but there are also substantial savings to be had in some of the costs too.
You may not appreciate that we often get substantial savings on advertising and printing costs which we are able to pass on to our clients. Truck and van fleet wraps are already amongst the best bang for your buck when it comes to advertising your business - the number of potential customers that will see your vehicles is staggering. But it can be even more tempting when you discover that we can get wholesale printing rates and pass on the savings to you - savings of $1400 a vehicle have been achieved for trucks.
There are also other savings that we can get for your business. Because we work with multiple businesses we are often in a position to negotiate harder with media looking for your advertising dollars. In fact, because niche media know that we can bring in business from across the country, we frequently do well to get a better deal for our clients. Often those are in the form of added benefits, above and beyond cost savings, additional advertisements are something we always want - because the main focus is not on what goes out, but on what you stand to bring in. Whatever we think will bring the biggest profits to your plumbing business.
If you would like to benefit from these savings or you would like to discuss how we can help with your plumbing marketing, don't hesitate to contact us through the website or to call.
PLUMBER TRUCK WRAP | PLUMBING TRUCK WRAPS | HVAC TRUCK WRAP | TRUCK WRAP HEATING AND AIR CONDITIONING | VAN WRAP PLUMBING